Ross Lovegrove
Wales
Ross Lovegrove is today one of the most exciting international designers. He was born in Wales in 1958. He was awarded a Master of Design degree from the Royal College of Art in London in 1983.

Ross Lovegrove's products are characterised by innovation, joy and courage, but also by curiosity and passion for materials and manufacture. He has been associated with many different design projects that have attracted great attention internationally.

He has designed furniture, lighting, computers, aircraft interiors and new product architecture. He has won numerous international awards and his work is exhibited at the Museum of Modern Art in New York, the Guggenheim Museum in New York, Axis Centre in Japan, Pompidou Centre in Paris and the Design Museum in London.
Designer Examples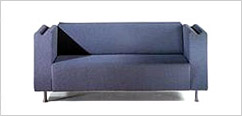 "M" Sofa for Moroso - 1997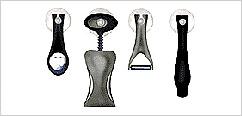 Kitchen Tools for Guzzini