Michael Graves
United States
Michael Graves's career has been one of the most remarkably creative and successful of any American architect practicing today. His extensive oeuvre includes such renowned projects as the Walt Disney World Dolphin Hotel and the Walt Disney World Swan Hotel in Florida, the San Juan Capistrano Library in California, and the precedent- setting Portland Building in Oregon, as well as designs for his highly popular lines of furniture, home furnishings, and artifacts.

Graves's signature aesthetic elemental shapes, references to historical forms, and warm colors that often reflect Italian and classical influences is recognized worldwide.

Featured projects in the United States include the Denver Central Library in Colorado; the Michael C. Carlos Museum at Emory University in Atlanta, with its extraordinary galleries for ancient art; and several private residences, including Graves's own Italianate villa in Princeton, New Jersey. International commissions include De Resident, the Ministry of Culture office building in The Hague; Hotel New York at Euro Disneyland Park Paris; the Hyatt Regency Hotel and Office Building in Fukuoka, Japan; sixteen additional projects in Japan; and others in Germany, the Netherlands, Wales, China, and Israel.
Designer Examples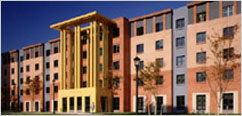 Laurel Hall - New Jersey Institute of Technology
Lake Hills Country Club - Seoul, Korea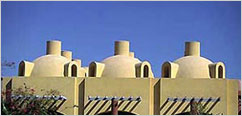 Sheraton Miramar Resort - El Gouna