Marc Newson
Australia
As a child, and later an art student, in Australia, Newson had no notion of what it meant to be an industrial designer. Born in Sydney in 1963, Newson's entrÈe to design came through his mother (his father had left when he was a baby) who took him to live at a beachfront hotel she managed which he remembers as being "full of all this really cool Italian stuff: Joe Colombo trolleys and Sacco bean bags".

In his teens, they travelled in Europe and Asia, until Newson returned to Sydney where he studied jewellery and sculpture. He soon applied those skills to furniture and mugged up on design history by "borrowing" copies of imported Italian magazines, like Domus and Ottogano, from the newsagent where he worked part-time. "That was how I got to know about Memphis and all the other stuff going on in Europe."

Newson has always maintained that it was a huge advantage to grow up in Australia, a country without an indigenous design tradition. "If I'd been studying design in Italy, I'd have been taught by people who'd been taught by Ettore Sottsass or Mario Bellini, and I'd have found having that tradition stuffed down my throat really stifling," he said. "Coming from Australia and studying jewellery and sculpture, my design was self-taught and instinctive."

His break-through piece was the 1986 Lockheed Lounge, the realisation of his image of "a fluid metallic form, like a giant blob of mercury" based "loosely, very loosely" on the 18th century chaises longue he had seen in reproductions of French paintings. Newson made it himself in "a couple of miserable months" of hammering hundreds of aluminium panels on to an home-made fibreglass mould. After the Lockheed Lounge was exhibited at a Sydney gallery, photographs of it appeared in magazines all over the world.

For the next few years, he eked out a living from odd jobs and grants while making prototypes of a few pieces. After a second hand-made metal piece, the 1987 Pod of Drawers, Newson adopted the sleek, luxuriantly industrial style which would become his signature: starting with the 1988 Embryo Chair, another reworking of the orgone, this time covered in brightly-coloured wetsuit fabric. He revisited the orgone and Aussie watersports in the 1989 Orgone Lounge, which was shaped like a surfboard in homage to Sydney surfies.

That year, Newson moved to Tokyo to work for Teruo Kurosaki, the Japanese design entrepreneur. Freed from the usual young designer's struggle for funds, Newson put some old designs, like the Embryo Chair, into production and developed new ones, like the 1990 Wicker Chair. Kurosaki exhibited his work at the Milan Furniture Fair, thereby launching Newson in Europe. With commissions from Cappellini and Flos, Newson left Tokyo for Paris in 1992.

He eked out a living- "people thought I was loaded because I got a lot of press, but I was still strapped for cash" - by selling limited editions of sculptural pieces, such as the 1992 Event Horizon Table, and designing restaurants, like Coast in London (1995) and Komed in Cologne (1996). When he was paid a windfall $20,000 for designing a Shiseido perfume bottle, Newson splashed out on his then-dream car, an Aston Martin DB4.

Vintage Aston Martins, like the DB4, were an influence over his work, as were 1960s Lamborghinis and Ken Adams' fantastical movie sets and the space race. Newson was - and still is - inspired by an eclectic collection of designers: from Joe Colombo "because of his killer shapes" and Achille Castiglioni "so clever and witty", to Enzo Mari "cool, very poetic" and Buckminster Fuller for "his nutty ideas and amazing imagination".

By the mid-1990s, he was experimenting with CAD software helped by Benjamin De Haan, who became his business partner. "I don't design on a computer: never have, never will," Newson explained. "I always have an idea in my head and it goes into a sketchbook. All I do on the computer is join the dots. It's a great tool for verification but there's no way that seeing something on a computer will ever be as good as actually seeing and touching it."

De Haan's computer skills proved invaluable as Newson took on commissions for mass-manufactured products from Alessi and Magis. In 1997, they moved the studio to London, where Newson won not one but two dream jobs: designing the cabin and livery of a Falcon 900B long-range jet and the 021C.

Those projects took his career him to another level. A bona fide superstar alongside Philippe Starck, who had encouraged Cappellini and Flos to hire him in the early 1990s, and his friend, Jasper Morrison, Newson juggled jobs for Nike and The Gap, with existing clients, such as Magis and Cappellini, as well as a Brisbane apartment building.

He also found time to compile a collection of objects which would provide an even neater illustration of his design sensibility than the 021C when exhibited at the Design Museum as the Conran Foundation Collection 2001. Given £30,000 to spend by Sir Terence Conran, Newson compiled a fantasy shopping list including an hand-made Rich Harbour balsawood surfboard and a cosmonaut's space suit worn on a Soviet Space Agency mission into space.
Designer Examples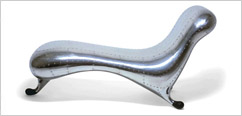 "Lockheed Lounge" - 1986-88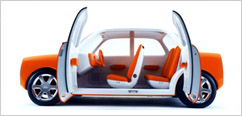 "021C" - Concept Car from Ford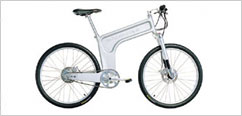 Biomega Bicycle