Antonio Citterio
Italy
This prodigious talent has worked as an industrial designer and consultant for a number of international manufacturers including such impressive enterprises as B&B Italia, Pozzi Ginori, Flos, Kartell, Vitra and many more.

Citterio's extensive and multidisciplinary experience ranges from architecture and interiors to corporate design, and he is now engaged in creating and coordinating a new image for Cerruti and Emanuel Ungaro.

In 1987, he entered into a professional relationship with Glen Oliver Lˆw, and together the two have created a number of significant objects such as Kartell's successful "Mobil" storage system, for which the partners were awarded the prestigious Compasso d'Oro prize in 1995. The system is now part of the New York Museum of Modern Art permanent design collection.

A proponent of rational design, Citterio has consistently approached modern design as such. He holds seminars and conferences around the world and his work is featured in numerous exhibitions and publications. The designer currently has several projects in the works including the B&B Italia factory project, the Moroso office building, the Alberto Aspesi factory and the ATM Parking building project, in addition to a number of projects abroad.
Designer Examples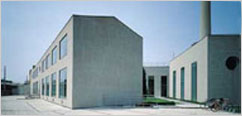 Esprit Headquarters - Milan, Italy